Energy Efficient Lifetime Insulated Windows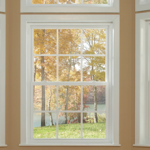 Quality Home Renovators sets the standards with the finest replacement vinyl windows available today, combining the highest quality with outstanding performance and value.
First, we started with our custom made top-of-the-line window. To reduce maintenance, we chose Neat glass, which is a technology specially designed to help windows shed water and adds self-cleaning properties.
To this, we added LoE-366, which offers significantly improved Low-E performance with the ideal balance of solar control and high visibility for year-round energy savings.
Super Spacer® technology and argon gas between window panes helps to minimize thermal and sound conductance. Our unique windows offer the highest level of energy efficiency available today.
Windows 101
Quality Home Renovators makes your window shopping easy. You'll find many styles, shapes, features and glass packages when looking for windows and doors. Deciding on the perfect choice for your home and family can be simple. Just take your time and let QHR help assess your needs. Consider which style will best suit your home and your family.
QHR will show you what thermal performance features will be ideal for your climate, and which glass options will be most appropriate.
After we've helped you figured out the basics, you'll have fun with glass and grid options and our elegant, unique hardware choices.
Window Styles and Shapes
Double Hung
Both sashes on double hung windows open fully
Single Hung
Top sash remains fixed, while bottom sash opens
Double Slider
Both sashes open and close by gliding from side-to-side
Single Slider
One sash opens and closes by gliding from side-to-side, while the other remains fixed
Casement
Sashes are hinged on the side and crank open a full 90 degrees for maximum ventilation
Awning
Sashes are hinged on top and crank out and upward
Picture
Picture windows are fixed and do not open or close
Geometrics
Geometrics are fixed windows available in stylish shapes
Bay
Bay windows are created by mulling three windows at either 30- or 45-degree angles
Bow
More rounded in appearance than a Bay, Bow windows feature windows mulled at 10-degree angles
Garden Window
Garden windows feature functional Casement sidelights and create a sunlit area to showcase plants or collectibles
Patio Door
Patio Doors feature broad expanses of glass and slide open easily
Garden Door
Garden Doors swing open and can be ordered to swing in or out
Glass Options
When it comes to saving energy and keeping your home more comfortable, you need the right glass package to get the job done. QHR windows combine the most effective features and the most advanced designs to achieve truly impressive year-round thermal performance.
Standard Glass
The standard glass package on most windows comprises ProSolar soft coat Low E glass, an Argon gas fill, the state-of-the-art spacer system and a deep-set insulating glass unit. In summer months, Low E glass keeps cool air inside while keeping hot air outside. In winter, Low E glass keeps warm air in and cold air out. Low E glass also blocks 84% of UV rays which can fade carpets, draperies and artwork. Argon Gas Fill increases efficiency by replacing air in the insulating glass unit with Argon gas. Nearly 12 times the density of air, Argon gas provides superior insulation.
Laminated Glass
For the ultimate in efficiency and security, choose laminated glass. This remarkable glass blocks over 99% of the sun's most damaging UV rays. For added safety, the laminated glass will not fall out inside the home if the window is struck with force and also helps reduce noise transmission.
Free Estimate
Quality Home Renovators will Come Out to Your Home and Give You a Free Inspection
Fill out the form to the right, and we will contact you as soon as possible to schedule your free estimate!
The estimate we give you will be good for an entire 12 months.